Thank you for a great 2018 swim lesson season. Stay tuned for 2019 swim lesson season information.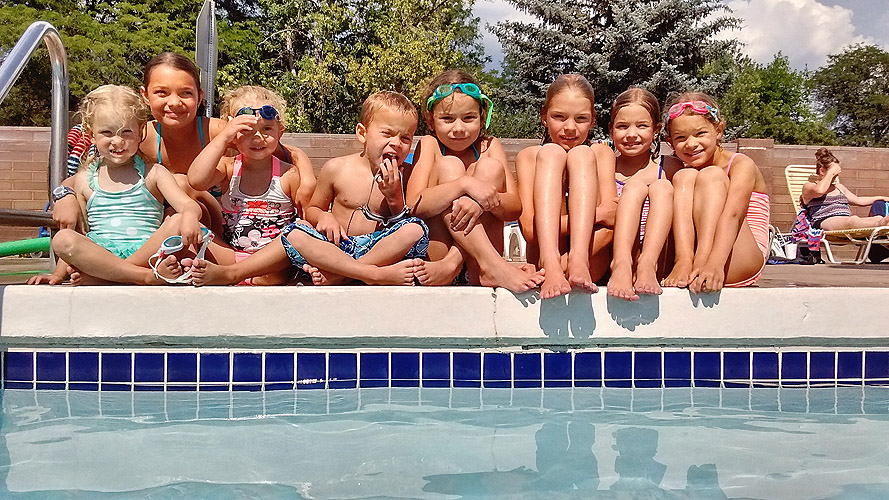 Classes meet for two weeks on Monday, Tuesday, Wednesday, Thursday.
Swim lessons for summer 2018 are being run by A&B Pool Services and will begin the week of June 4th.
Lessons are conducted Monday - Thursday with Friday reserved as a weather make-up day. In the event of multiple poor weather days, every attempt will be made to make up missed days, but there will be no guarantee of full 8 classes in a session. Lessons must be paid for in full at time of registration. One week prior to each session, a class may be dropped and funds transferred to another session. No refund for cancellation after class session begins. SCCA Members have the option to register online, or with the concessions staff during regular pool hours. Online registration begins May 1. Non-members must register with the concession staff, beginning opening day, May 26.
A minimum of three children is required for each class. Register your children in the highest level they completed last summer. If you do not know which level to register your child in, the lifeguards can usually get a pretty good idea by watching a child swim. Adjustments may be made the first day of classes.
Session D: July 23 - Aug 3
Registration Instructions
SCCA Members
$50 for 2-week group classes
$30 for a 30-minute private lesson
$20 each swimmer for a 30-minute semi-private lesson (max 2 swimmers)

By registering for a class, the parent/guardian of the participating swimmer(s) agree and understand that swimming can be a HAZARDOUS activity. By registering, you recognize that there are risks inherent in the sport of swimming. You agree to participate with A&B Pool Services (A&B) and to release and hold harmless A&B its instructors officers, owners, directors, agents and employees against any liability from injury that may occur to the swimmer while participating with A&B. By registering, you agree to indemnify A&B for any damages incurred arising from any claims, demand, action or cause of action by the swimmer. By registering, you authorize any representative of A&B to have the swimmer treated in any medical emergency during their participation with A&B. Further, the swimmer and/or parent/guardian agree to pay all costs associated with medical care and transportation for the swimmer. It is your responsibility to inform of any and all medical or health problems of which the staff should be aware.

Submitting this registration is a REQUEST for a class, which does not guaranteed a class spot. A&B will notify me if there is a problem with your first choice of classes. An email will only be sent if there is a problem with the registration. No confirmation emails will be sent.
Use your SCCA Login/Password. Click on the "Scheduling" tab at the top. Select "Camp/Classes," then select "Lessons."
Non-Members
$60 for 2-week group classes
$35 for a 30-minute private lesson
$25 each swimmer for a 30-minute semi-private lesson (max 2 swimmers)

Registration for Non-Members begins on Opening Day. Please register in person at the concession stand where you will pay in full, and sign a Waiver Form.
Pre-requisites
Age 3-5
New to no parent in pool
New to group setting
Comfortable with parent nearby
Not afraid of the water

Lesson Objectives
Water acclimation and basic water play
Assisted floats
Kicking
Face in water
Pre-requisites
Age 3-5
Comfortable in group setting without parent
Follows rules
Ready to listen and learn to swim
Lesson Objectives

Lesson Objectives
floating
kicking
Bobs
Rolling over
Freestyle and backstroke intro
Elementary backstroke
Safety information
Pre-requisites
5 years old
Ready to listen and learn in a group setting

Goals
Submerge
Assisted front and back floats
Confident in the water
Jump from side, assisted

Practice Skills
Change direction while walking
Get in water up to neck
Submerge ears
Blow bubbles with nose
Face in water
Standing elementary backstroke movements

Safety
Ask permission to get in
Enter/exit the pool with ladder, wall
Pool rules
Jumping safety

Deep Water Acclimation
Leave steps/wall with instructor
Scooter bug
Pre-requisites
5 years old
Ready to listen and learn in a group setting

Goals
10+ bobs
float front and back
kick front and back
Confident in the water
Jump from side, unassisted

Practice Skills
Chin tuck
Pick up rings from bottom/step while submerged
Streamline position - front and back
Sculling - front and back
Elementary backstroke, assisted

Safety
Leave steps/wall with instructor
Roll front to back unassisted
Jump in, roll to back, assisted
Jump in return to wall, assisted

Deep Water Acclimation
Scooter bug toward deep water and back
Intro to treading water
Pre-requisites
5 years old
Ready to listen and learn in a group setting

Goals - 1
Freestyle with bilateral breathing
Backstroke, 15 yards
Surface dive to bottom, retrieve ring

Practice Skills - 1
Surface dives
Swim, roll-over, breath, roll-over
Wall push-offs, front and back
Big arms

Goals - 2
Freestyle with bilateral breathing, 25 yards
Backstroke, up to 50 yards
Somersaults on land and water

Practice Skills - 2
Somersaults
Wall push-offs, front, back, side
Kickboard skills
Goggle use
Change direction while swimming
Underwater frog swim
Intro to circle swimming

Deep Water Acclimation
Jump in, touch bottom with feet
Treading water with flutter and elem. back kicks), 30 seconds (1), 60 seconds (2)
Treading water no legs (2)
Floating in deep water
Deep water bobs (2)
Jump in, return to wall
Dolphin dives (2)

Safety
Throwing/reaching assists
Removal of extra clothing in water
Jump in, roll to back, unassisted
Jump in, roll to back, float, unassisted (2)
Jump in, return to wall, unassisted
Pre-requisites
Level 5

Goals
breaststroke 10-15 yards
butterfly 10 yards
somersaults in water

Practice Skills
Sculling
Breaststroke kick with kickboard
Breaststroke arms
Putting it together - pull, breathe, kick, glide (timing)
Dolphin dives
Dolphin kick, front and back
Intro to fins
2-hand touch on walls
butterfly arms
butterfly breathing and timing

Safety
25 free/back fully clothed, remove excess clothing while treading water
jump in, surface, treat water 90 seconds
tread water no hands, 30 seconds
Youth Lesson Level 7 - Endurance and Pre-competition
Pre-requisites
Levels 5, 6
Goals
50 free, 50 back, 25 breast, 25 fly (all without stopping, legal strokes)

Practice Skills
Backstroke count
Free flip turn
Wall push-off and pull-out
Intro to diving
Stroke drills
Backstroke turn
Dive with pull-out